01-02-2012, 09:52 PM
smiles
Guru dan Staf


Posts: 3,874
Joined: Jan 2012
Reputation: 10
RE: ISU -ISU SEMASA
24,000 ducks destroyed in Australia after bird flu ( 1 February 2012 )
Some 24,000 Australian ducks were being destroyed Wednesday after testing positive for a low pathogenic strain of the bird flu virus, an outbreak which has prompted poultry export bans in parts of Asia.

The Australian Chicken Meat Foundation said the outbreak of the strain of avian influenza appeared to be confined to two linked duck farms in the southern state of Victoria and any ban on exports was an over-reaction.

Foundation chief Andreas Dubs said Japan's suspension of all Australian poultry imports and Hong Kong's ban on imports from Victoria would have the biggest impact.Dubs said the outbreak appeared to be isolated and had not affected a chicken farm.
02-02-2012, 09:16 PM
smiles
Guru dan Staf


Posts: 3,874
Joined: Jan 2012
Reputation: 10
RE: ISU -ISU SEMASA
Rare Earth Plant in Kuantan ( 2 February 2012 )
The Malaysian government has granted a controversial rare earth plant in Kuantan a temporary operating licence, despite strident protests by residents and green groups over fears of the radioactive waste it will produce.

After hearing recommendations from the Atomic Energy Licensing Board on Monday ( 30 Jan 2012 ) the government said yesterday it will award the Australian company Lynas Corporation a temporary licence start operation , but imposed five conditions related to safety, including several on waste disposal. Lynas must detail its plans for a permanent several on waste disposal.
03-02-2012, 09:46 PM
(This post was last modified: 03-02-2012 09:48 PM by smiles.)
smiles
Guru dan Staf


Posts: 3,874
Joined: Jan 2012
Reputation: 10
RE: ISU -ISU SEMASA
Cold weather death toll passes 100 in Ukraine
More than 100 people have now died as a result of freezing weather in Ukraine since last Friday, the government has announced in Kiev.

Most of the 101 who died were homeless people and 64 of them were found dead on the streets, the emergencies ministry said.

Hundreds of others have been treated in hospital for frostbite, hypothermia and other cold-related conditions.

Temperatures plunged to below -35C in parts of eastern Europe this week.Cold weather deaths have been reported across eastern and central Europe
04-02-2012, 01:30 PM
(This post was last modified: 05-02-2012 10:19 AM by smiles.)
smiles
Guru dan Staf


Posts: 3,874
Joined: Jan 2012
Reputation: 10
RE: ISU -ISU SEMASA
Hubble Snaps Stunning Barred Spiral Galaxy Image ( 3 February 2012)
The Hubble space telescope has captured an image of a "barred spiral" galaxy that could help us better understand our own Milky Way.

Most of the known spiral galaxies fall into this "barred" category - which are defined by the pronounced bar structure across their centres.The presence of this structure may be an indication of a galaxy's age.

Two-thirds of nearby, younger galaxies have the bar, while only a fifth of older, more distant spirals have it.The new picture also continues the Hubble space telescope's long heritage of striking astronomical images.

In the upper left of the image is a cluster showing recent star formation that is just visible to Hubble's cameras.

But it is a bright source in X-ray light; astronomers believe that this IXO-5 X-ray source is actually a "binary" system comprising a star and a black hole in mutual orbit.
04-02-2012, 04:55 PM
AZFARHAN~
Ahli

Posts: 13
Joined: Jan 2012
Reputation: 2
RE: ISU -ISU SEMASA
DAri CATOON BOLEH JADI BETUL
[/php]
05-02-2012, 10:14 AM
(This post was last modified: 05-02-2012 10:15 AM by smiles.)
smiles
Guru dan Staf


Posts: 3,874
Joined: Jan 2012
Reputation: 10
RE: ISU -ISU SEMASA
At least 64 killed by cold snap in Russia
At least 64 people died of hypothermia across Russia in January from the freezing weather gripping most of the country.About 1,400 people requested medical assistance nationwide.

The current temperatures in Russia are 7-12 degrees below normal. The cold snap even extends into the normally warm North Caucasus with temperatures there plummeting to minus 20 degrees Celsius (-4 Fahrenheit). Siberia and the Far East, no strangers to cold winter weather, are currently in a deep freeze at minus 40 degrees Celsius.

A Moscow health official said five people died overnight in the Russian capital, where low temperatures in different parts of the city dipped to between minus 23 and minus 27 degrees Celsius, RIA Novosti reported.
05-02-2012, 06:01 PM
RE: ISU -ISU SEMASA
06-02-2012, 08:12 AM
smiles
Guru dan Staf


Posts: 3,874
Joined: Jan 2012
Reputation: 10
RE: ISU -ISU SEMASA
ROME , Italy . ( 4 February 2012 )
Romans bewildered by their city's first big snowfall in 26 years used government-issued shovels to clear sidewalks and piazzas, and kitchen utensils to clear windshields Saturday.

The snow - as deep as 8 inches in some neighborhoods - made buses and taxis scarce and shut down tourist sites such as the Colosseum. It also covered the dome of St. Peter's Basilica, blanketed ancient arches in the Roman Forum, and toppled some towering umbrella pine tress near the Vatican.

The unusually cold snap caused the normally mild-weather Italian capital to grind to a halt as thousands of people were trapped on trains.
07-02-2012, 08:08 AM
(This post was last modified: 07-02-2012 08:11 AM by smiles.)
smiles
Guru dan Staf


Posts: 3,874
Joined: Jan 2012
Reputation: 10
RE: ISU -ISU SEMASA
Ocean changes 'will cool Europe'
Changes to ocean currents in the Atlantic may cool European weather within a few decades, scientists say.
Researchers from the UK's National Oceanography Centre say currents derived from the Gulf Stream are weakening, bringing less heat north.

Their conclusions, reported in the scientific journal Nature, are based on 50 years of Atlantic observations.

They say that European political leaders need to plan for a future which may be cooler rather than warmer.
The findings come from a British research project called Rapid, which aims to gather evidence relating to potentially fast climatic change in Europe.

So what does all this mean for European weather? Will it necessarily get colder - or will the apparent recent trend of warmer summers continue?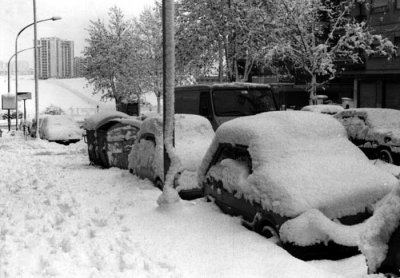 07-02-2012, 09:32 PM
(This post was last modified: 07-02-2012 10:15 PM by Ila GShah.)
Ila GShah
Guru dan Staf


Posts: 83
Joined: Jan 2012
Reputation: 1
RE: ISU -ISU SEMASA
Filipina dilanda gempa bumi
MANILA 6 Feb. 2012 - Satu gempa bumi kuat berukuran 6.7 skala Richter menggegarkan pulau Negros, Filipina hari ini menyebabkan 43 orang terbunuh, termasuk dua kanak-kanak dan 40 lagi hilang.
Gempa yang turut menyebabkan amaran tsunami dikeluarkan itu mengakibatkan bangunan rosak dan mencetuskan insiden tanah runtuh yang menimbus berpuluh-puluh rumah. Pusat gempa terletak hanya lima kilometer dari pantai Tayasan, Negros Oriental dan dapat dirasakan pada kekuatan tujuh di bandar Dumaguete dan kekuatan enam di Bandar Bacolod.
---
SUARA ANEH DARI LANGIT BERLAKU DI SELURUH DUNIA
Sedang kita dihebahkan dengan berita-berita dan beberapa spekulasi huru hara besar akan berlaku pada tengah malam pertengahan Ramadan yang secara kebetulan jatuh pada hari jumaat pada tahun 2012. Kita digemparkan pula dengan kejadian suara aneh dari langit yang sangat kuat dan menggerunkan yang berlaku pada 11 dan 12 Januari lepas di negara kita sendiri iaitu di Kota Samarahan, Sarawak sehingga mendapat liputan meluas dari seluruh dunia.
Suara tu dikatakan didengar oleh beberapa penduduk di Samarahan pada pukul 3 pagi hingga ke waktu subuh. Suara ini seolah-olah bunyi dengkuran kuat dan ada juga mendakwa seperti bunyi seseorang bernafas menyebabkan penduduk terjaga dari tidur.
Ada juga dakwaan beberapa pihak yang mengatakan bunyi dari langit tersebut berpunca dari kilang kelapa sawit berdekatan, namun dakwaan itu dinafikan penduduk kerana bunyi enjin memproses kelapa sawit tidak mungkin di dengari sehingga ke Kampung Muara Tuang yang sejauh 10 kilometer.
Sebenarnya, bunyi yang serupa juga pernah dilaporkan kedengaran di beberapa kawasan dunia sebelum ini seperti di Tennesse (Amerika) pada 12 Mei 2011, Kiev (Ukraine) pada 11 Ogos 2011, Aaborg (Denmark) pada 16 September 2011, Budapest (Hungary), Moscow (Rusia), Cichago (US), Sweden, Czeh Republic, Conklin (Canada) dan paling terkini di London (UK) pada 17 januari 2012. - boleh cari di YouTube
Sementara itu Timbalan Menteri Sains, Teknologi dan Innovasi, Datuk Fadillah Yusuf tidak mahu terus membuat konklusi mengenai perkara itu. Katanya, beliau perlu terlebih dahulu mendapatkan maklumat saintifik mengenainya daripada Jabatan Metrologi.
The Borneo Post tempoh hari melaporkan satu bunyi aneh dari langit telah kedengaran di Kampung Meranek, Kota Samarahan yang mencetuskan ketakutan dan kegelisahan penduduknya. Tidak lama selepas bunyi itu kedengaran, satu kejadian gempa bumi kuat (7.3 skala Richter) berlaku di Sumatera, Indonesia.
Selain daripada kejadian gempa bumi di Sumatera itu, ada juga teori yang mengaitkan bunyi aneh dari langit itu dengan sebuah program yang dikenali sebagai High Frequency Active Auroral Research Programme (HAARP).
Sumber:
http://majalahbiarbetul.blogspot.com/201...z1lhnJqRKr
User(s) browsing this thread: 1 Guest(s)
Proudly Powered By MyBB
© 2002-2015 MyBB Group.
Theme by
Rhydian Davison
and
Andraž Rihtar
.
Icons by
Yasuke Kamiyamane
and
WooThemes
.